After analyzing nearly 20 thousand online messages we may have gotten to the bottom of the Christmas movie debate.
Thank you all for supporting us this year, as we conquered the ups and downs of a tough election season, we appreciate your feedback and readership.
To our new readers, welcome! We are People First's "What the Polls Don't Tell Us" a bi-weekly newsletter using our own proprietary data and social listening tools to analyze millions of online posts to discover what themes are emerging in the online political discourse.
We have analyzed topics such as vaccine mandates and reproductive rights alongside voter surveys to better understand how as a community we might be able to produce successful campaign messaging.
Now, for the most wonderful newsletter of the year, it's our annual holiday special, and this year we decided to brave the cold-hearted internet for their hot takes on the worst Christmas movies. Let us be the first to warn you there are some… shockers.
BIG TAKEAWAY: When Americans mention "worst" Christmas movies online they are most often discussing Polar Express, Elf, and Home Alone 3 & 4.
Don't even get Men started with Hallmark, apparently the unrealistic romantics just don't do it for them.

Women, on the other hand, are top critics of "Family Stone" and "A Castle For Christmas".

There are actually people who think Jim Carrey's How the Grinch Stole Christmas is among the worst Christmas movies!
SLEEPER TAKEAWAY: We all have our favorites, but best to steer clear of the ones mentioned above – if you want to keep the family feuds to a minimum.
Every year, when the season arrives, we can fall victim to the Christmas obsession, browsing the season sections at Target in preparation to cozy up with a spiked hot chocolate and watch our favorite Christmas movie. But as we all know, choosing the right movie can lead to internal conflicts and heated debates, so much so that we find countless articles, polls, and quizzes online all trying to decipher one thing – which movies are the best and which are the worst?
We at People First decided after such a tough political season we might provide some guidance in this area to ensure a more peaceful holiday season.
The latest data from IMDB puts Kirk Cameron's Saving Christmas as the most terrible Christmas movie, but as usual social media begs to differ.

Even when we take a look at Rotten Tomatoes strict criteria requiring at least 20 reviews and <30% on the Tomatometer, they still don't seem to get it right, putting the more popular movies to the test such as Christmas with the Kranks coming in 2nd last on the critics "Naughty List".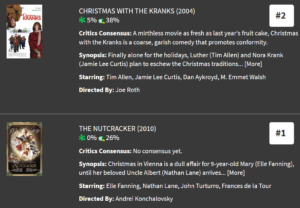 Per usual, when we take a look at the online discourse – it is a whole differently decorated cookie. When Americans take the time to roast movies online, Polar Express is top of mind with 20% of users listing this computer-animated fantasy as the worst.

Even more polarizing is Elf coming in second place for worst Christmas movie. As with most Will Farrell films you either hate it or you love it, and it seems like Elf isn't making the nice list this year.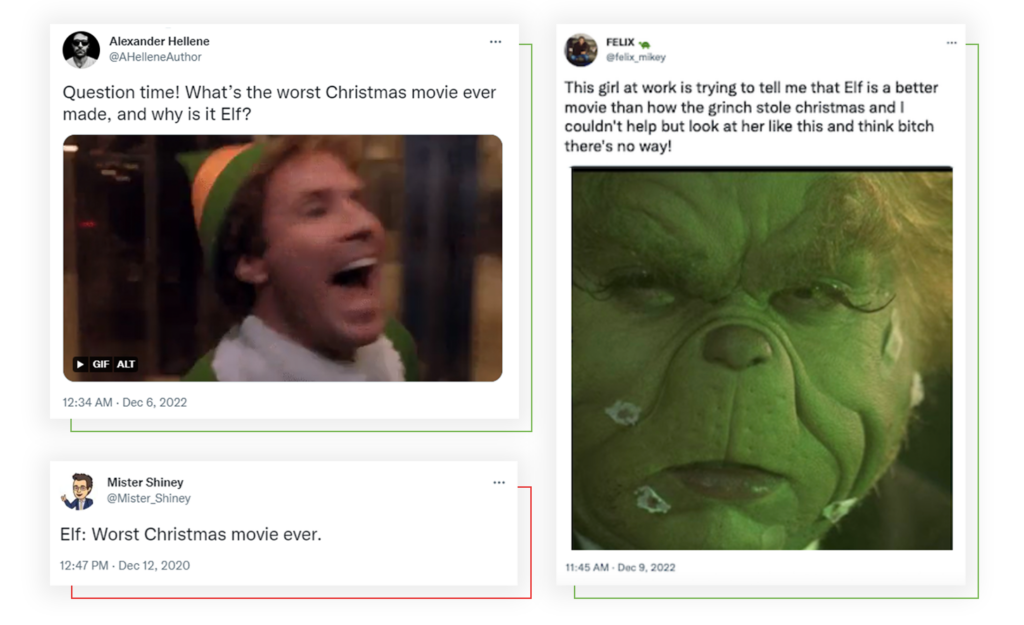 This one sent our sleigh bells ringing when we saw a classic Home Alone ranked at third worst, but thank the Christmas elves it wasn't the Macaulay Culkin renditions, it's the sequels Home Alone 3 and 4 so, fair enough.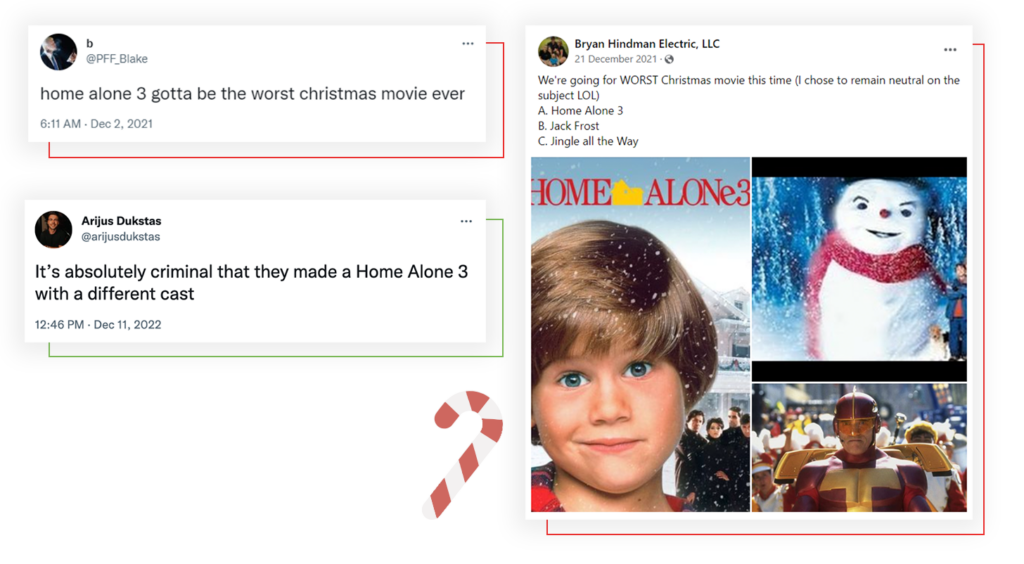 And hold on for dear life because there are actually Grinch haters! Now, this is a corner of the internet we were not prepared to see, among the top topics mentioned when discussing the worst Christmas movies is Jim Carrey's How the Grinch Stole Christmas.

I know we said to leave these films off the list to avoid conflict over the holidays, but the Grinch might actually be one worth fighting for.
Depending on your holiday plans you might also want to consider who you are around when it comes to making suggestions in order to avoid any resting Grinch faces. If it's a mixed crowd and men are around – probably best to avoid anything Hallmark.

If the ladies are present – steer clear from "Family Stone" and "A Castle For Christmas".

Bottom line: Just put on How the Grinch Stole Christmas, we all know it's the best.
Here is a mistle-toast to the holiday season, and we wish you all a Happy New Year. See you in 2023!
Subscribe to What the Polls Don't Tell Us: