One year away from the GOP Presidential Primary Election and it seems Donald Trump is still maintaining the lead.
Republicans are still riding on the Trump train. Considering Florida Governor Ron DeSantis has yet to formally announce his race for presidency, there is still room for change; let's just be sure we aren't the ones responsible for this.
Google Trends data shows that although interest in Donald Trump has remained much higher on average over the last year, trends are indicating that the discourse is warming up ahead of the Republican Presidential Primary. As the new year has kicked off, online users have begun to show increased interest in Ron DeSantis and Nikki Haley as well.

When we look at the online discourse about these three presidential candidates among self-identified Republicans over the last year, it is clear that Ron DeSantis and Nikki Haley have managed to gain substantial traction over the last six months. DeSantis has gained a 2.4% increase in share of voice, while Haley is just shy of 2%.

Although Donald Trump continues to drive higher levels of passion (stronger emotional expressions) among self-identified Republicans over the last three months, Ron DeSantis has achieved — while only slightly — higher levels of positivity.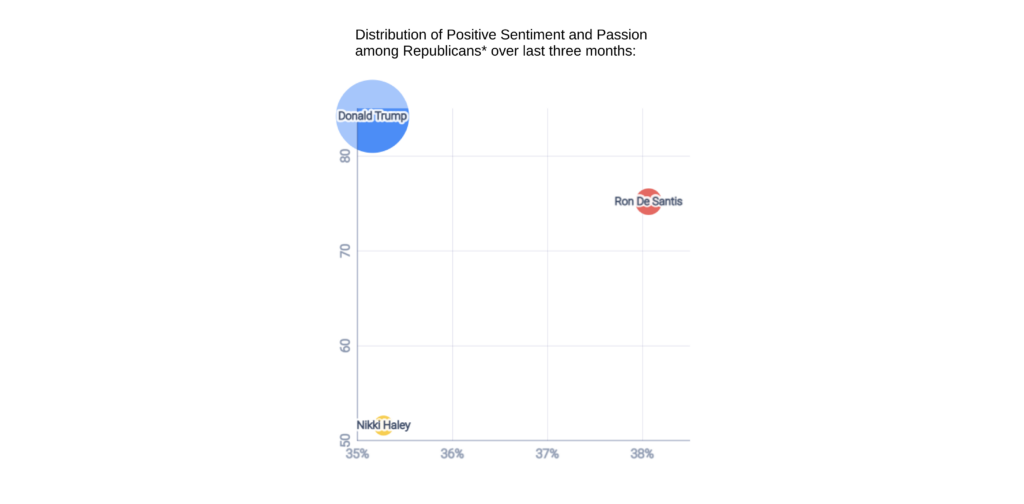 Although some Republicans indicate avid support for DeSantis as a presidential candidate for 2024 (#desantis2024), a large proportion of this audience continues to show support for Trump.

Regardless of their support for DeSantis, they would prefer he remains Governor of Florida until it is his turn to run as Trump's successor in 2028.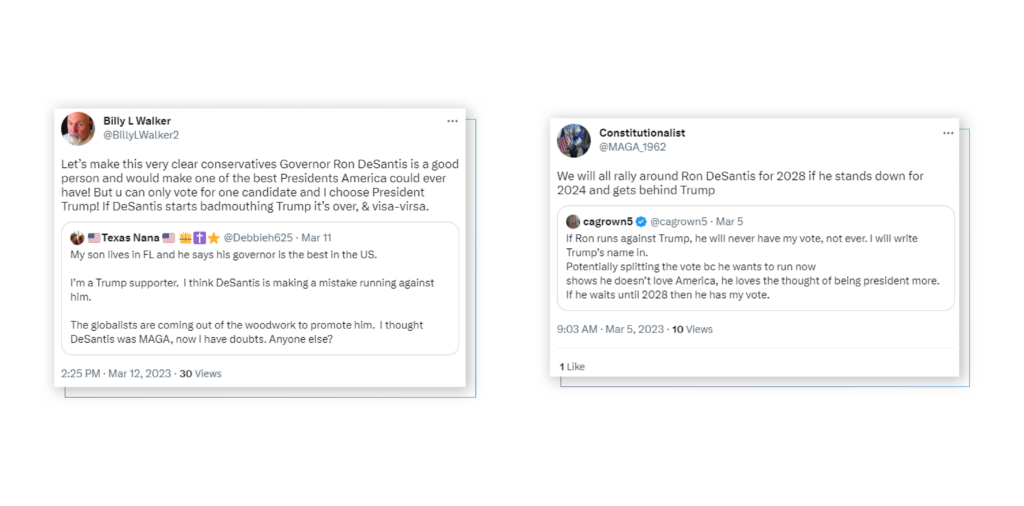 The latest poll data finds the same sentiment among voters. Results from the Quinnipiac University National Poll finds that Trump has widened his lead over DeSantis, with 46%-32% split. It's not that Republicans don't like DeSantis, it's just that they still love Trump. The online discourse highlights Trump's lead in positive emotional expressions of both trust and love among supporters.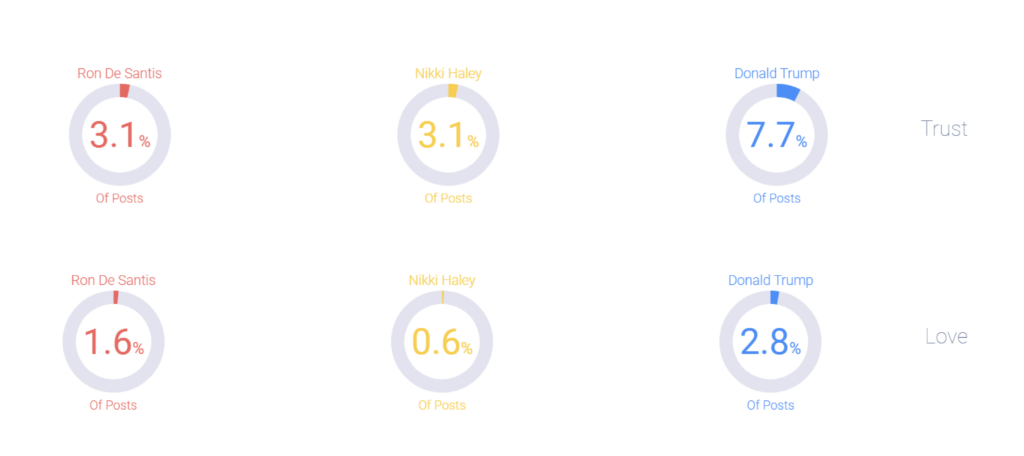 So what does this mean for Democrats? While it's tough to say if this lead will continue, it is important to understand how discourse among Democrats is contributing to the rise in support for DeSantis among Republicans. Looking at the discourse trends, we can see that Democrats are most frequently igniting the discourse around DeSantis.

This puts Democrats in a powerful position to control the narrative. At this point it seems most references to DeSantis as president by Democrats fuels Republican support for him as a great option.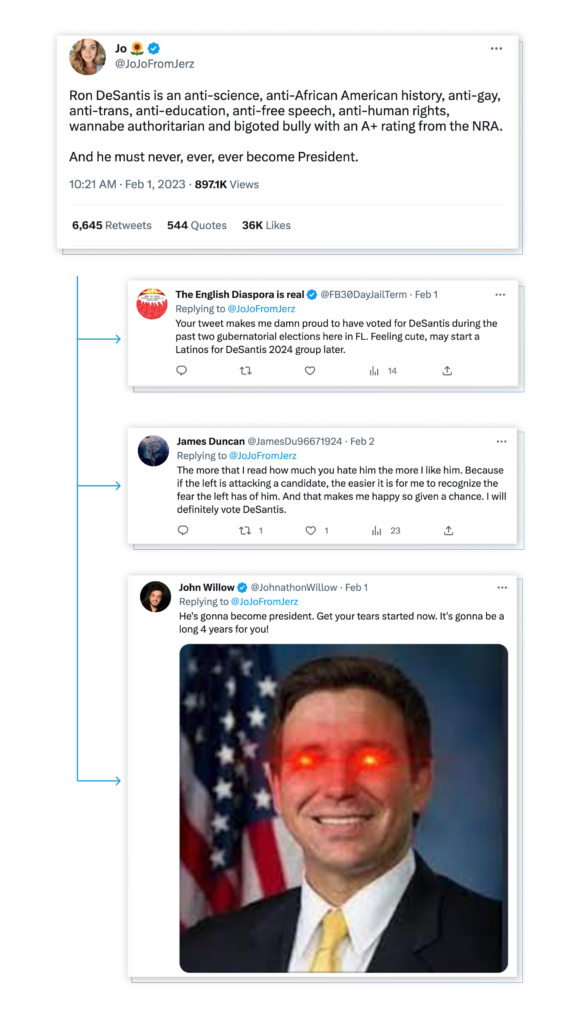 While we most certainly do not want to claim Ron is a great guy, we also want to tread lightly in the arena. Focusing on his horrifying actions on Floridians or his attacks on the LGBTQ and POC communities prove to be areas that activate Democrats without paving the way for a presidential bid.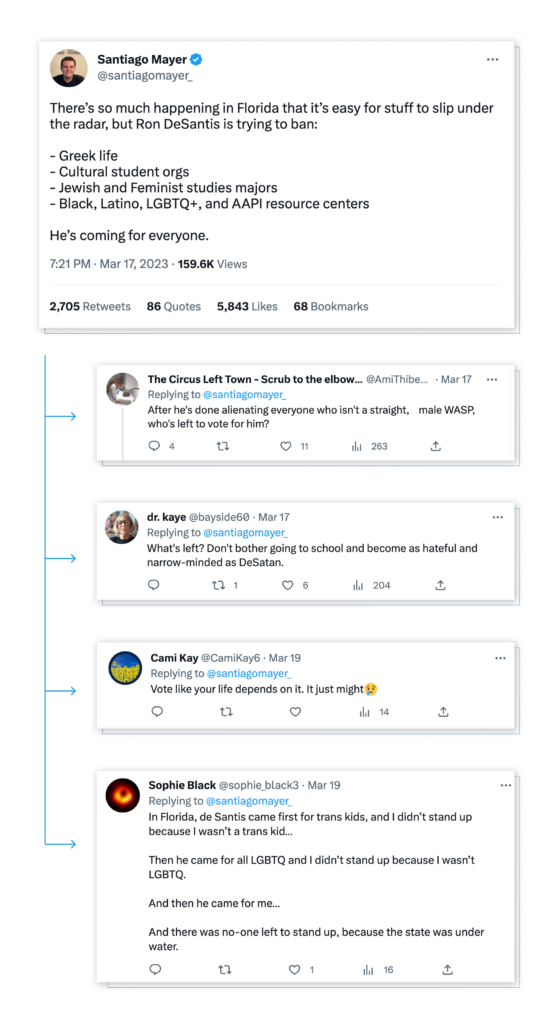 Until we are faced with a formal announcement from DeSantis, we should focus on his inability to represent his own state — making it obvious he also lacks the ability to represent the US — without outright drawing attention to his race for presidency.
Bottom line: Trump is in the lead. Though we shouldn't take this for granted, it's probably best to keep it that way for now. The prospects of a Trump, DeSantis, or Haley presidency are all alarming. At this stage, strategically, it doesn't make sense to continue fueling Republican support for DeSantis for president. Stay vigilant, this can always change so we promise to keep our ears on the ground and eyes on the data.
Subscribe to What the Polls Don't Tell Us: