Taking a closer look at the discourse around the most recent attacks on legal abortion we can strategize for success in places where the threats continue to grow.
As the attacks over access to legal abortion continue to play out in the courts, people are turning to social media to air out their grievances, build awareness, and organize campaigns for support; but how can we turn this momentum into action? By taking a closer look at the recent discourse we can strategize for success in places like Texas where the threats continue to grow. 
Since our last update in September 2022, the discourse around abortion access had subsided throughout the holiday season and into the end of the year. However, at the start of 2023 there has been a resurgence in the volume of online mentions as people have been watching the war on the abortion pill (mifepristone and misoprostol) play out online. The largest spike occurred last month, when a Texas judge suspended the FDA's long standing approval of Mifepristone.

This ongoing legal battle has taken over the discourse, with people across the country turning their attention to Texas and the effects these court rulings could have for all women in America.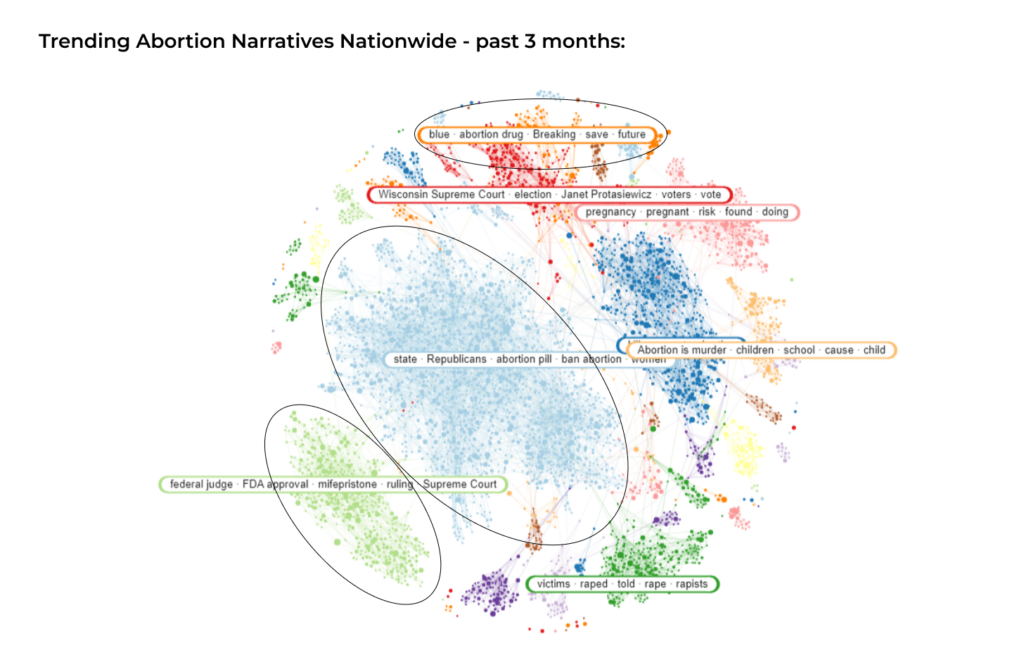 Aside from the enthusiasm around the election of Janet Protasiewicz at the beginning of April, the discourse is fraught with anger.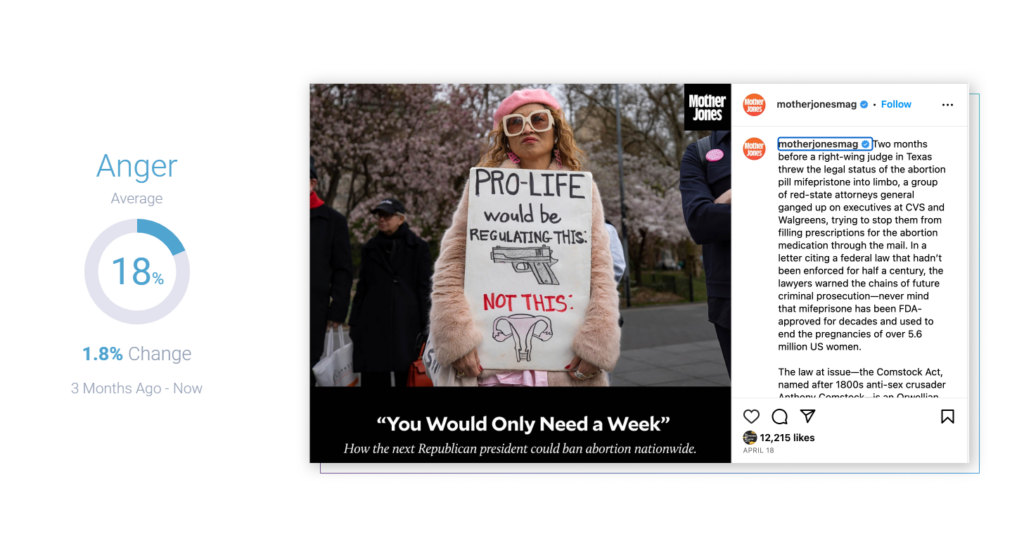 While this conversation is playing out across the country, Texas remains at the heart of the discussion about the abortion pill ban. Texas was specifically selected by the anti-abortion legislators who filed the initial lawsuit to ban Mifepristone through a process called "forum shopping", in which litigants file suits in jurisdictions where they are more likely to receive a favorable judgment – which they did ultimately receive from District Judge Matthew Kacsmaryk.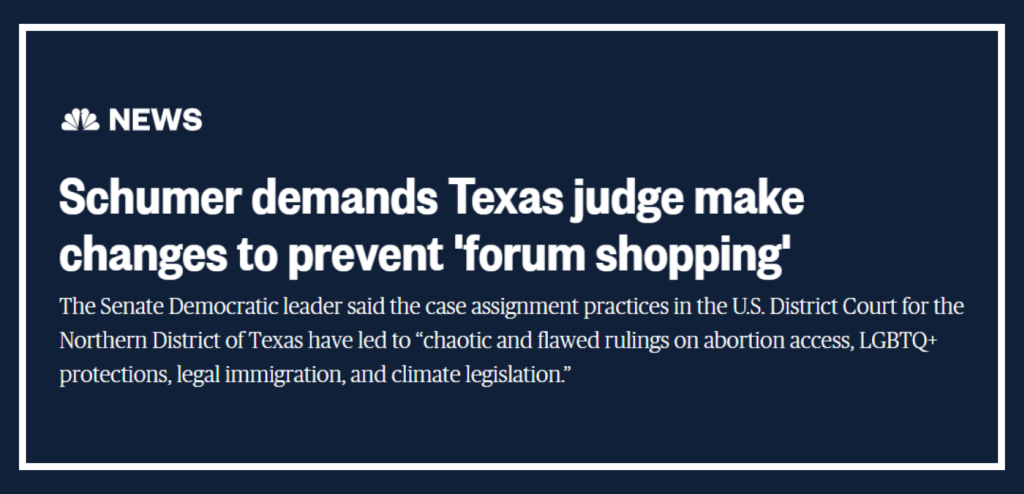 So, how are people in Texas reacting? As expected, the discourse in Texas is divided along party lines with Democrats fighting to protect abortion rights (#abortionishealthcare, #bansoffourbodies, #magawaronwomensrights) and Republicans fighting to ban abortion (#chooselife, #endabortion, #savethebabyhumans). 

What is surprising is the growing volume of progressive voices in Texas, with nearly 2x more abortion mentions from Democrats than Republicans over the last three months.

But, similar to what we had noted seeing in our previous newsletter on abortion messaging, Texas Democrats seem to be spreading more messages appealing to older audiences than to younger audiences.

Republicans in Texas are doing the exact opposite: appealing to younger audiences. Even though the discourse among Democrats aged 25-34 is still larger than that of Republicans in the same age demographic, the overall volume of Republicans contributing to the discourse online remains younger.
Now the strategy becomes: how do we appeal to younger Texas audiences online in a way that promotes action?
Step 1: Based on audience insights, it seems that playing on the anger and frustration felt by people in Texas by using similar language as younger angry audiences encourages content engagement, thereby increasing the content reach.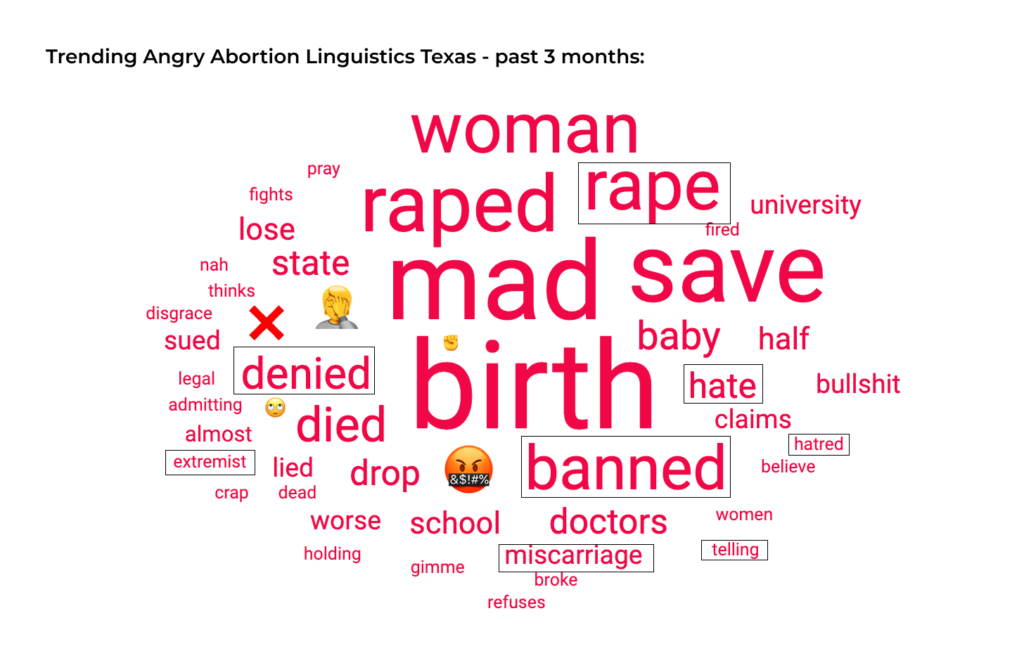 Step 2: It's been proven that younger Texans respond most strongly to information-based content that focuses on protecting abortion rights and getting out the vote for progressive candidates and causes.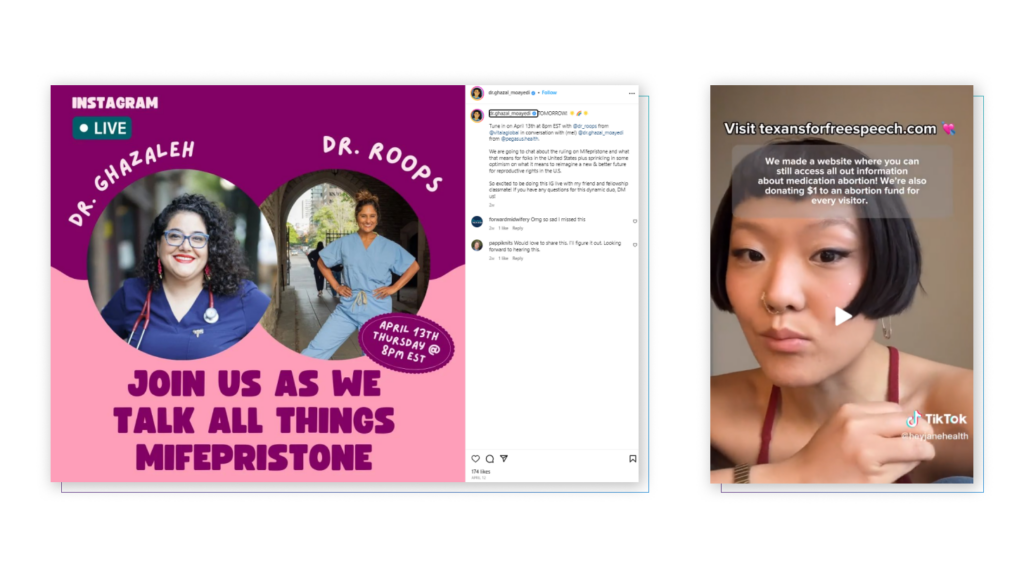 Step 3: Do not let up. The continual flow of emotionally engaging action-based content will continue to transform angry citizens into active voters.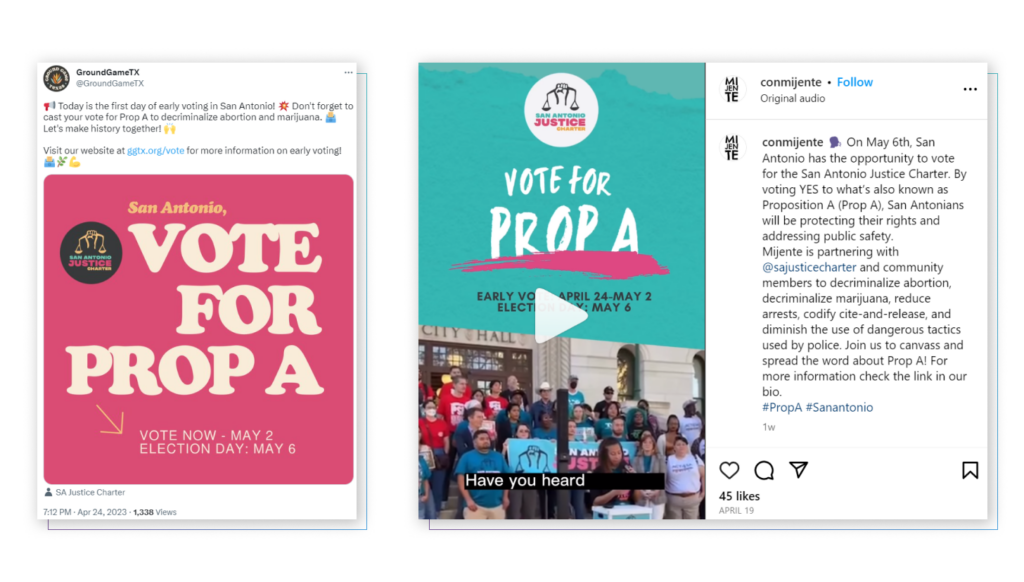 Early voting has already started in San Antonio,Texas, and since then we have seen an influx of content attempting to rally the youth vote for Proposition A in this way. This is going to be an election to watch in Texas as local organizations are attempting to capitalize on the anger and frustrations of Texas youth and constantly serving content that reminds them of the value of their vote in this election. While only time will tell the success of this campaign, we are certain that there will be some critical findings from the online presence of this race that will help us better understand how to navigate social media in future Texas elections. 
Bottom line: As attacks on legal abortion continue this only fuels online social activism. By integrating strategies that capitalize on frustration, using similar language as target demographics, from trusted members of the community we can hopefully continue to successfully push against extremist attacks on bodily autonomy.