Losing Faith in Healthcare
Americans are increasingly losing faith in the healthcare system. The pandemic further eroded trust in health experts. According to the Pew Research Center, only 29% of Americans trust medical scientists. In this vacuum of trust in healthcare, patients are increasingly turning to their communities for trusted counsel. They rely on their friend networks and affinity groups to inform their health decisions and to build brand loyalty.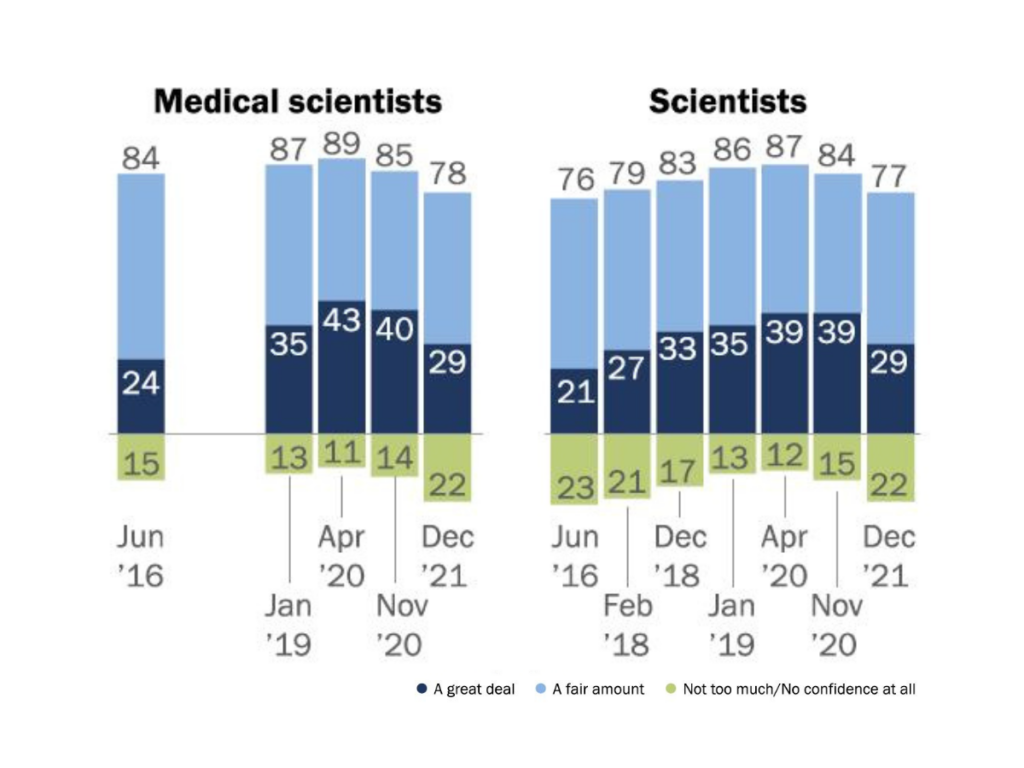 Power of Patient Stories
Healthcare brands may decry this fundamental change in patient behavior, or acknowledge the growing voice of patients in making their own health decisions. The solution begins with authentic patient stories. The most powerful marketing and advertising voices today are patients who share lived experiences about their conditions and treatments on behalf of brands and causes they support. These stories capture the authenticity required to drive purchase intent in today's decentralized media environment.
We are a partner with the Ad Council on their Creators for Good program supporting a host of public health issues. As part of our campaign to overcome vaccine hesitancy, a health care practitioner in Pennsylvania shared an Instagram post detailing what she wanted her children to know if she became ill while helping COVID-19 patients, and why she was nonetheless committed to continuing to provide care anyway. The post received a 29.2% engagement rate, because it was real. Brands simply cannot manufacture narratives that match the honest experiences of patients themselves.
Hand Raisers for Healthcare
Patients today share freely online about nearly every disease and condition. Healthcare brands can now tap into companies such as People First to source posts, videos, and reviews from any patient group at scale based on any combination of condition, disease, device, geography, ethnicity, sexuality, and affinity. At present we are organizing more than 1,000 patients who are participating in campaigns about menopause, irritable bowel syndrome, diabetes, urinary tract infections, cervical health, breast health equity, and mental health, among others.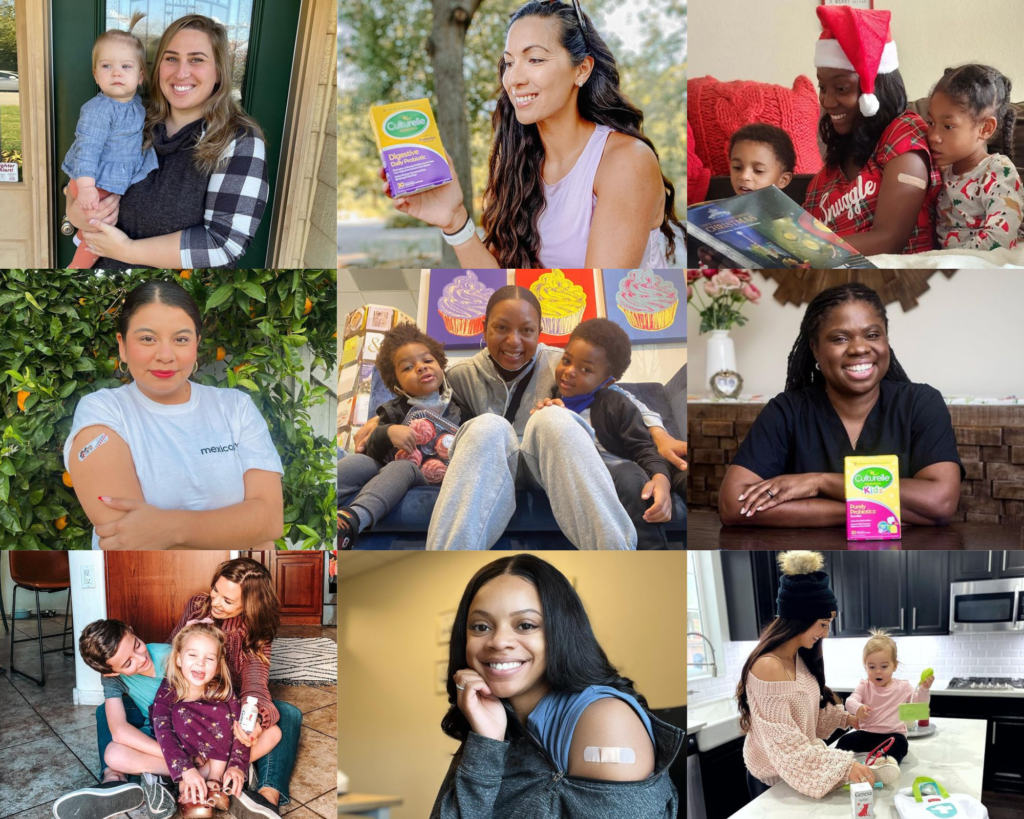 Many brands have painstakingly secured a mere handful of patient testimonials, while partners such as People First distributed more than 15,000 posts and videos in 2022 alone. Of course, the largest impediment to this important work is governance, compliance, and legal, especially relating to adverse events. This challenge is solved in four ways:
If a brand is operating social media channels and conducting social listening, the team already has the infrastructure in place to implement patient stories
Partners such as People First feature exhaustive brand safety checks through a trio of human organizers and a trio of algorithmic checks before and after recruitment, including tracking content once it's live
All patient stories are derived from approved brand briefs with transparent disclosures carefully delineating the language, do's and dont's, channel, and composition of content based on direct brand guidance consistent with other marketing messages
Brands own all rights and usages to this highly personal and powerful content, which means that the brands can opt to distribute these stories across their own channels or simply turn them into high performing ads – but not ask patients to actually share the content to their respective channels
Solving for Health Equity & Inclusion
Many healthcare brands struggle to reach diverse audiences. In a recent meeting about a medicine for Black women over the age of 55, we asked how many Black women over the age of 55 had worked on the creative campaign. The answer was inevitably "none". Patient stories solve for this imbalance by inviting diverse creators matching highly specific patient groups to express themselves in their own voice, vernacular, and experience. In a media environment in which the messenger matters as much as the message, this is essential marketing. Unlike large creative productions, brands can also source dozens or hundreds of posts and videos from different patient groups, which can be distributed to different look-alike audiences through micro targeted ads.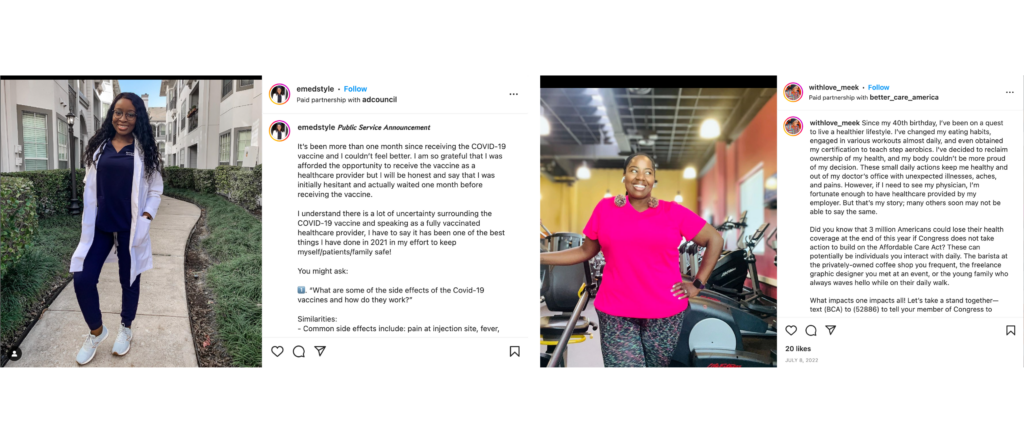 Lo-fi, Hi-performing Content
In a recent study by Meta, consumers prefer lo-fi, personal content over expensively produced content. Most healthcare content is highly produced and often similar. Based on one million ads with more than 10 thousand total impressions, lower production quality video resulted in a 1% higher increase in ad recall lift. In 2019, Meta found that self-recorded direct response ads outperformed studio-shot creative, resulting in a 63% likelihood to drive lower funnel outcomes such as purchases and installs. Patient stories dramatically outperform control ads in terms of performance by 3-5x click-through and 5-6x organic share rate.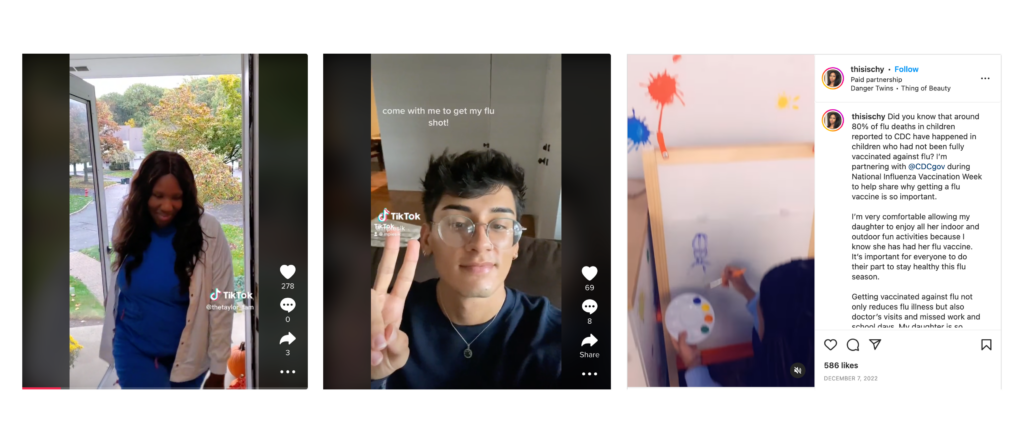 Key Ingredients to Patient Stories
Following upfront work to solve for approval workflow, there are three main ingredients to making patient stories work for brands:
Empower patients to express their experience with the product personally. Patients often feel that the narrative of their own health is out of their control, charted instead by someone who doesn't really know them. So, J&J partnered with People First to commission posts from patients within one week of surgery to share their experience with pain, in which each person's pain was unique, but the approach to pain management was consistent.
Understand that patients are smart and creative about health. Each day patients are finding clever and impactful ways to engage their communities. Partner with them not only to create content but inform the strategy and creative. For example, we launched the "Mani, Pedi, Pap, Pose" campaign for Hologic based on feedback from the community for Cervical Health Awareness Week in 2022. It was a bespoke song and dance partnership designed for TikTok launched by an initial 133 creators. Following the campaign, the volume of posts mentioning the Pap test more than doubled with more than 15,000 women scheduled an appointment for a cervical health screening as a direct result of the campaign.
Choose persuasion over popularity. Celebrity influencers drive awareness, but not intent. First of all, their brand often outshines the clients when comments are analyzed. And, the actual engagement is low. Microinfluencers, your actual patients, receive much higher engagement, persuasion, and even recall. It was this understanding that led to our education campaign on menopause for iHealth's AZO OUT medicine. More than one hundred women spoke openly about vaginal care generating an 11% lift in purchase intent as well as massive growth in awareness. The campaign showed that many women are ready to share their experiences on conditions once viewed as private. Rather than a celebrity, who leads an aspirational life, these stories were from real women with shared ideas.
In conclusion patients are ready, willing, and able to raise their hands to share their stories on behalf of products, brands, and causes that they support. Patients trust their communities. They trust other people with shared experiences and conditions. Patient stories should become an essential part of any marketing campaigns. It is time for brands to get real.