In times of disaster, social media has been the place for communities to spread awareness; no thanks to Elon Musk, misinformation is taking precedence.
Before we get to this weeks story big news in Wisconsin as Janet Protasiewicz secures a victory leading to a Democratic majority on the Supreme Court Bench! The unprecedented turnout highlights Wisconsin voters eagerness to say no to abortion bans, gerrymandering, and voting restrictions. Check out our latest blog post showcasing the work People First was able to organize activating young voters to spread the word about this critical election.
It has been just over two months since the news broke about the derailment of a freight train carrying hazardous materials in East Palestine, Ohio. While media outlets worked to get the full stories about what was happening, citizens of East Palestine were able to turn to social media for resources and more information about their communities' experiences.
Since that fateful day on February 3rd, people have been discussing this specific event for much longer than your typical news cycle headlines. When we compare the online discourse about the Ohio derailment with other events that happened in February, like the Chinese Balloon incident or the tragic earthquake in Turkey, the conversation is much larger and continues to see flare ups.

When we take a deeper look at the online conversation about the Ohio Derailment, there is evidence of the divisive political nature of this event. Nearly half of the online conversations (41%) mention Trump and/or President Biden, placing blame on leaders based on political preference.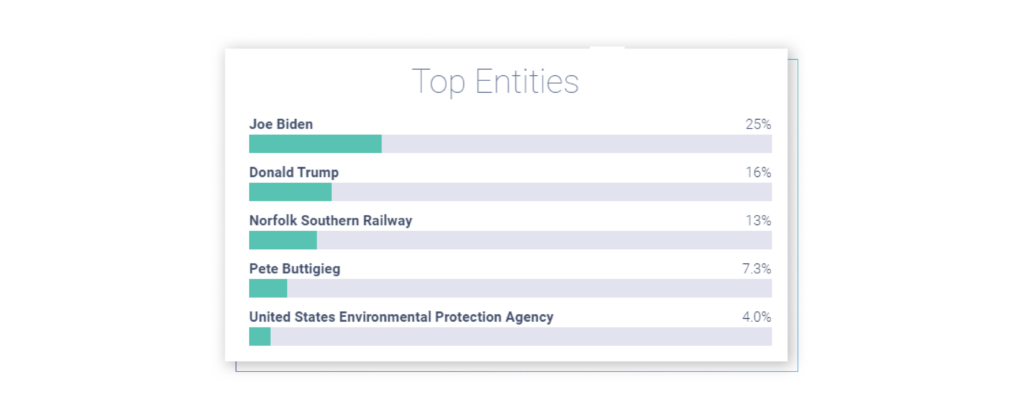 This makes sense as the people who are most often discussing the derailment are 14x more likely to be interested in elections and 10x more likely to be interested in Politics in general on their social media.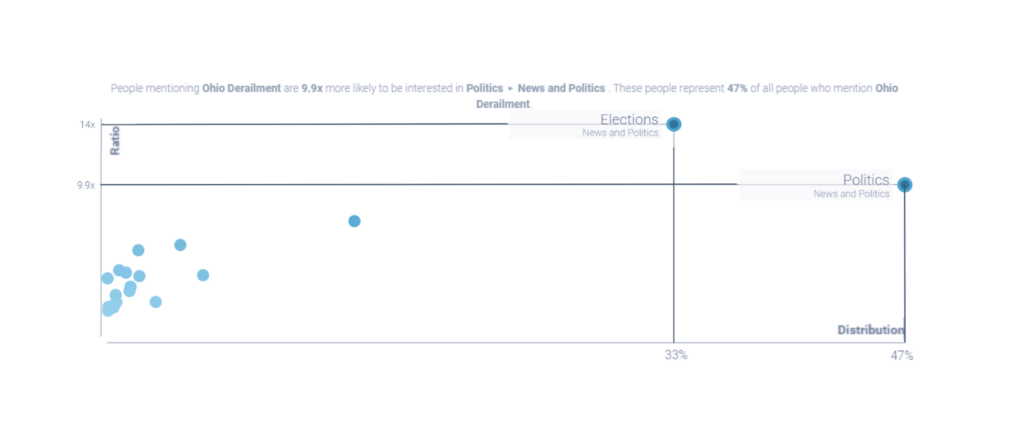 When we look at the volume of mentions by partisanship, it is clear that Republicans have been following the news about the Ohio Derailment more closely. Self-identified Republicans are nearly 2x more likely to discuss the disaster than self-identified Democrats.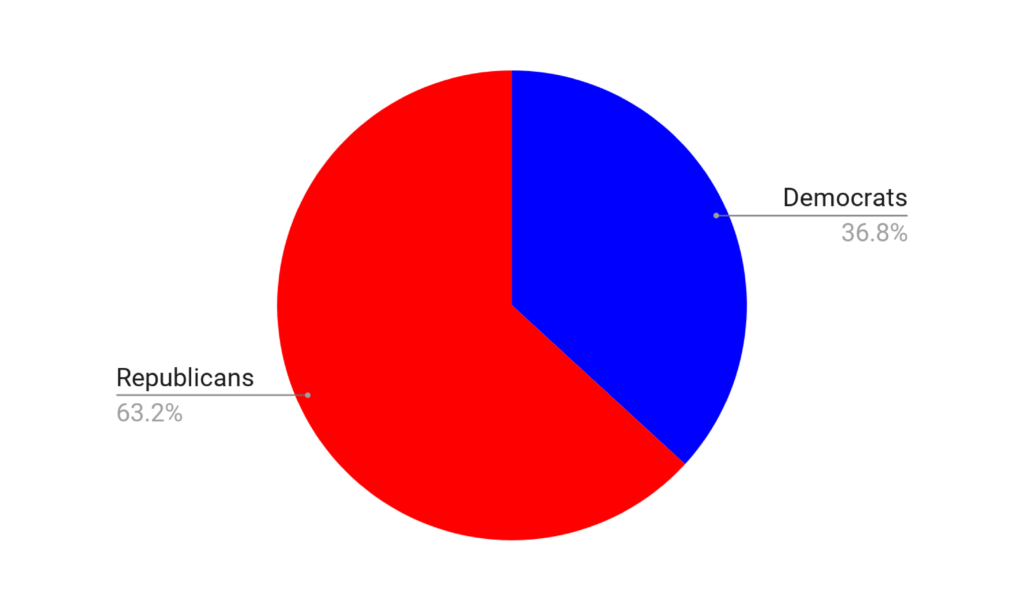 It is also clear that the disaster in East Palestine has become a perfect opportunity for Republicans to shame the Biden administration and for Democrats to place the blame on Trump.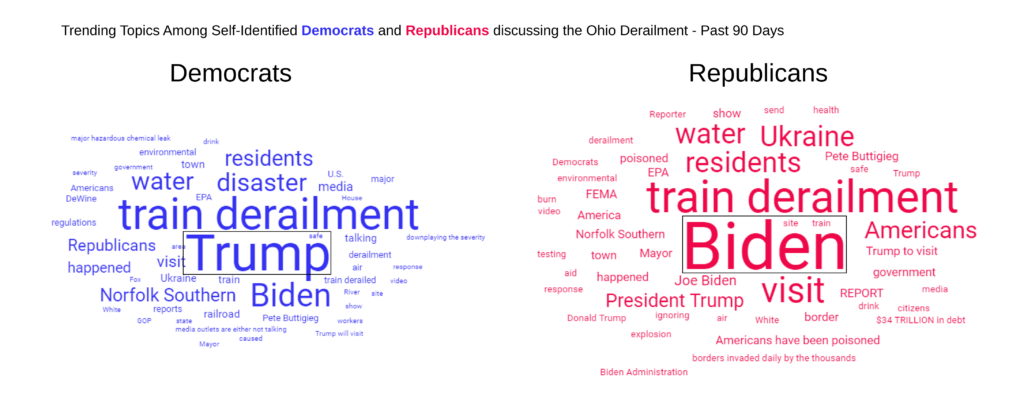 Interestingly, a large proportion of the online discourse about the derailment among self-identified Republicans is focused on Biden's visit to Ukraine.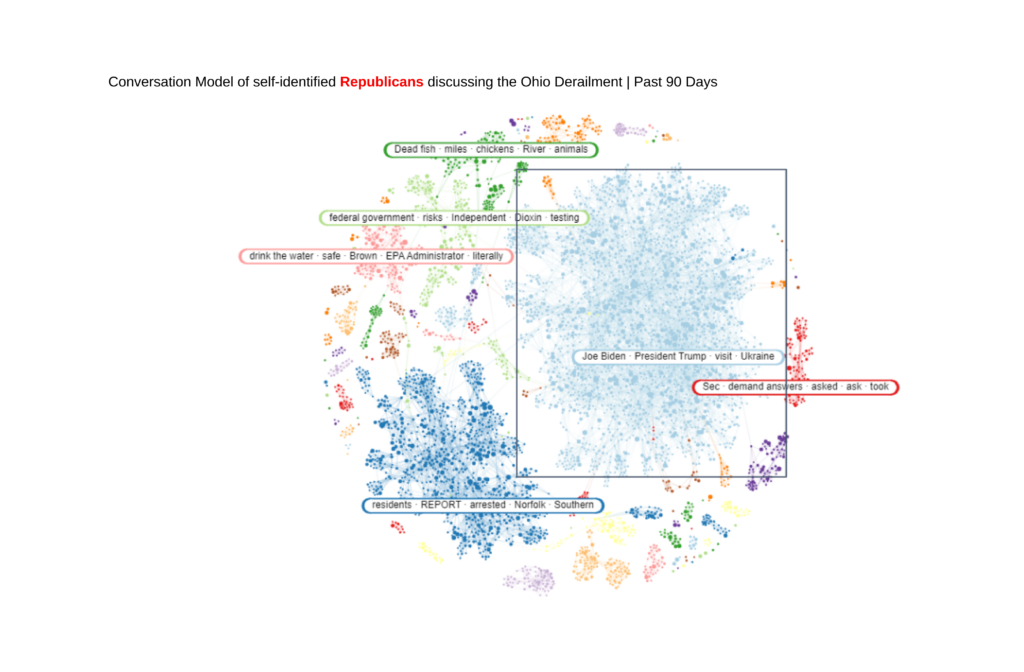 According to an investigation by AP News these narratives linking Biden's visit to Ukraine and lack of support for East Palestine have been stoked by anonymous pro-Russia accounts, who have used Twitter's new verification system to spread misinformation and sow divisions within the US.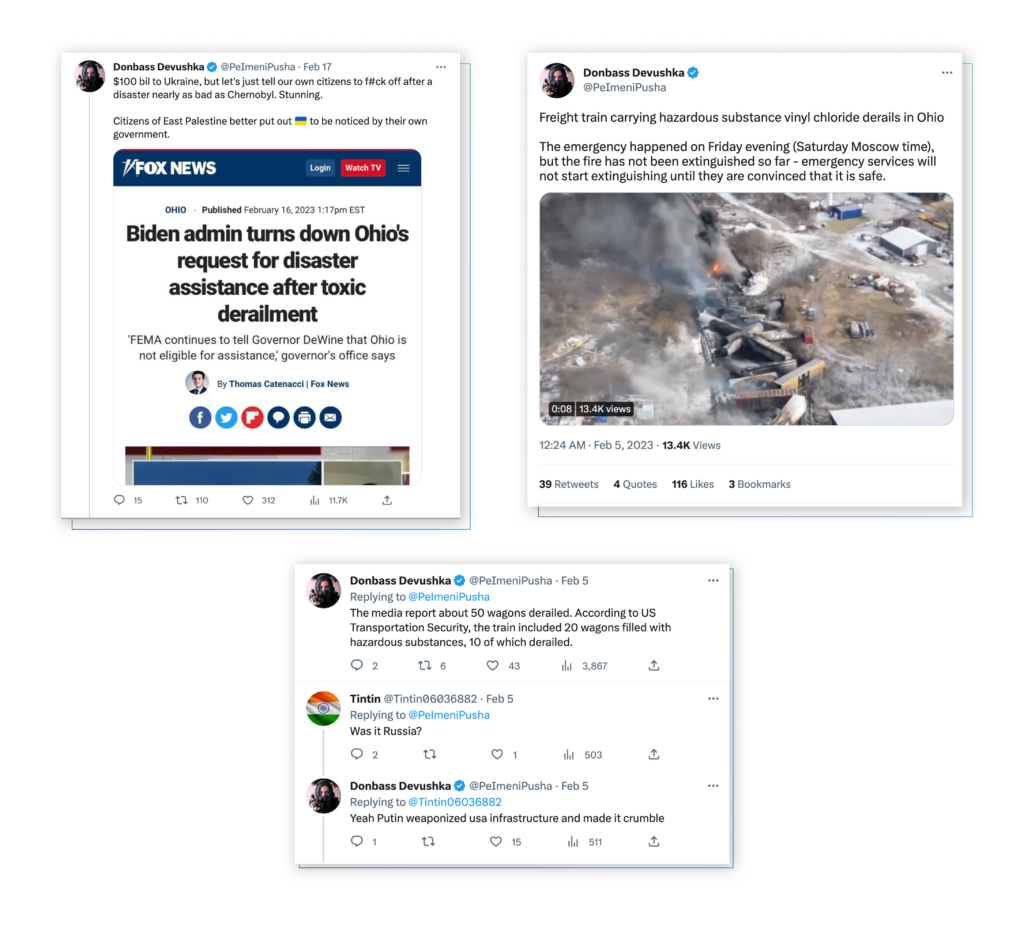 Although it can be difficult to verify these misinformation claims, we can confirm that when self-identified Republicans create original posts (not RTs) about the derailment, we have seen a growing number of hashtags that support the narrative that Biden does not put Americans first.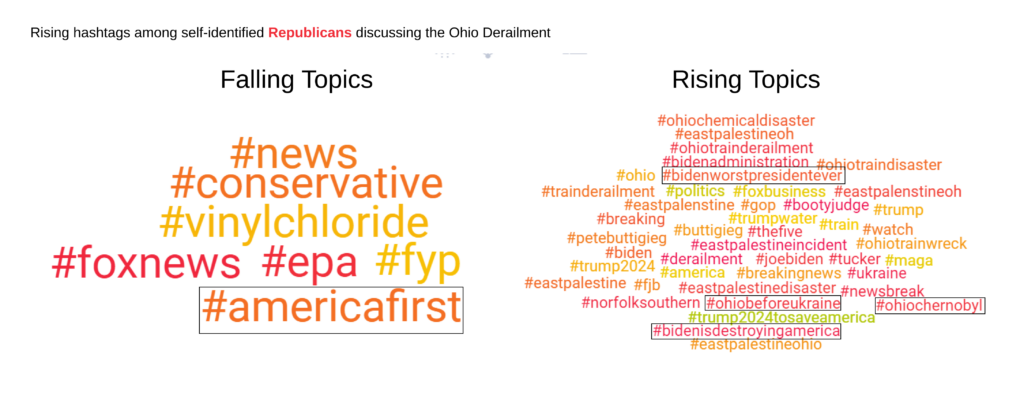 And many of these posts are coming from people who have acquired verified status on Twitter through Musk's new program that allows anyone to receive this status at only $8 a month.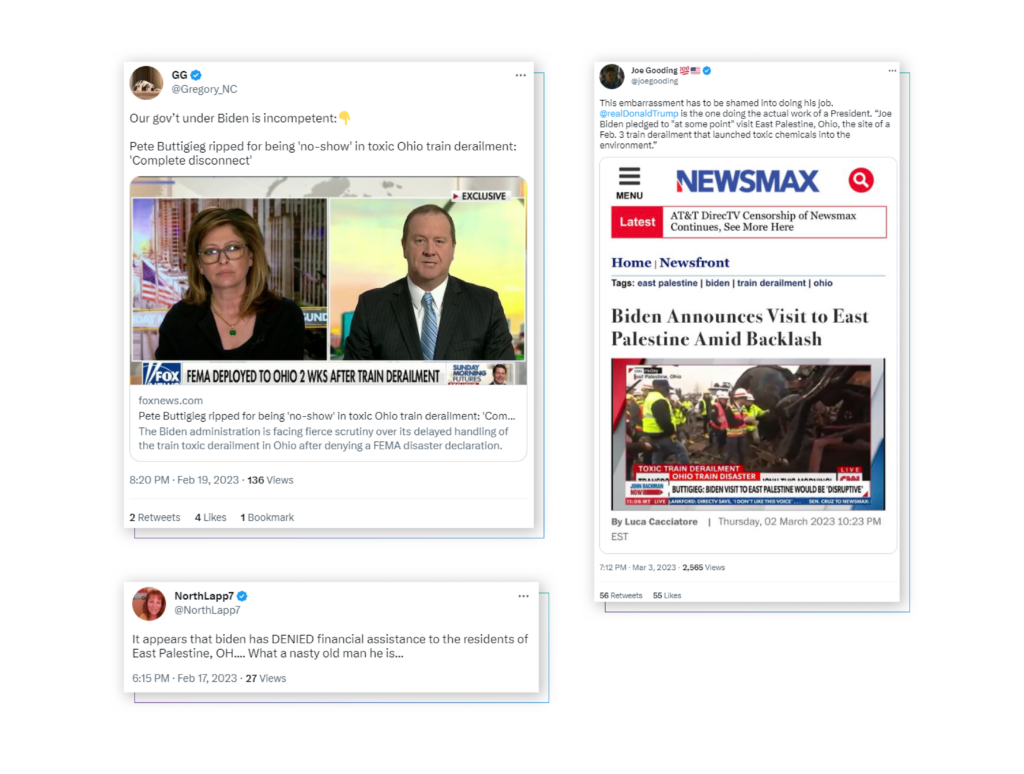 We have written about the potential consequences of Elon Musk's twitter takeover in the past. It would seem that many of our concerns about misinformation are coming to life.
It's not news that Twitter has historically been the platform for news sharing and social activism. And, while misinformation is nothing new to social media, we were able to rely on the fact that the "blue check" was reserved for verified sources. Now that anyone is able to purchase this power, our ability to determine the validity of sources has reached an all time low.
Luckily, you can check the validity of these accounts by going to their profile and clicking on the "blue check", this will let you know if the user is verified as a notable and trusted source or if they purchased the subscription.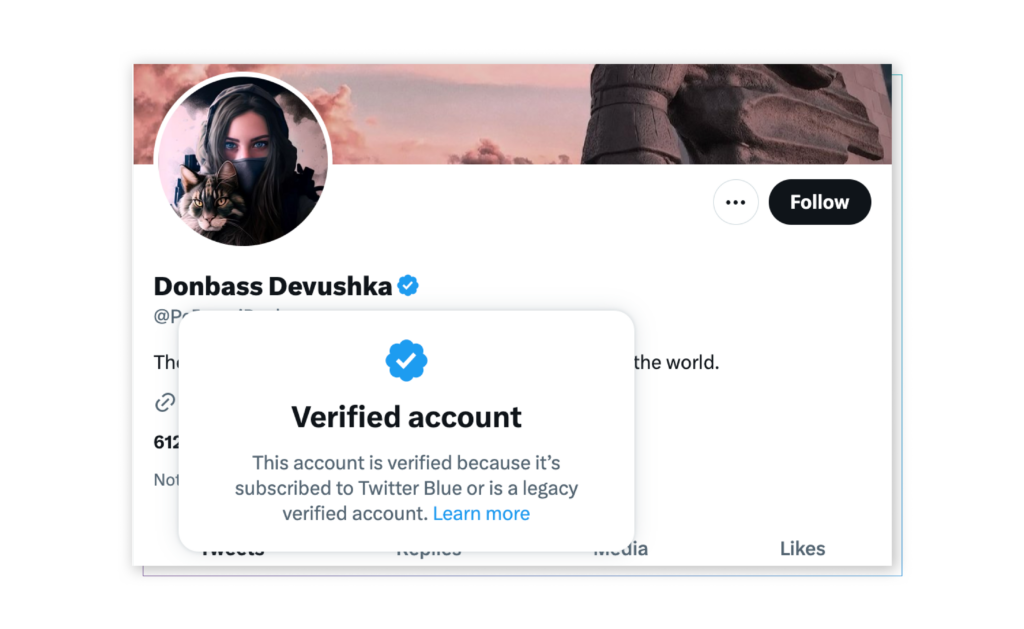 Bottom line: When disasters such as the derailment in East Palestine, Ohio occur, social media becomes essential to spreading information and getting the stories out from real people on the ground. Unfortunately, it has now become critical that we begin questioning the validity of any information we see on Twitter. This does not mean that everything on social media is fake news, it just means we need to stay vigilant.
If you feel the need to brush up on some tips and tricks for combating misinformation check out Johns Hopkins' "How to spot 'fake news' online". 
Subscribe to What the Polls Don't Tell Us: