In this month's newsletter we revisit the conversation around AI influencers, but with a deeper dive into the importance of committing to and ensuring equal pay for your diverse community of (human!) influencers, by looking at the recent Levi Strauss AI model campaign. It's time to keep it real.
Continuing the conversation
Last month, we talked broadly about the rise of AI influencers, with a particular focus on how problematic and inauthentic computer-generated brand ambassadors truly are. While we like to think that our newsletter has a pretty robust reach, it seems there was one brand that missed out on our free and very timely advice: Levi Strauss.
Levi's, the noted denim and clothing brand, recently announced a fresh commitment to diversifying their e-commerce "human models in terms of size and body type, age and skin color." Taken at face value, this seems like a promising and progressive commitment; but — sigh — rather than opting to hire, and compensate, a diverse group of human models, Levi's, in partnership with LaLaLand.ai, launched an army of "diverse" computer-generated AI models.
And, as you can imagine, the backlash was fast and fierce.
While Levi's may have started with the right intention, their thinking was highly misguided, their execution flawed, and the output a disaster. One might even say that what was noble at face value resulted in — to echo some of the more piercing criticism — an embrace of blackface.
The opposite of empowerment
Speaking of value, creators have taken Levi's to task not only because their "diverse" AI models are teetering on the precipice of actualized racism, but also because of how this disturbing CGI trend actively contributes toward the continued economic marginalization of those same people of color.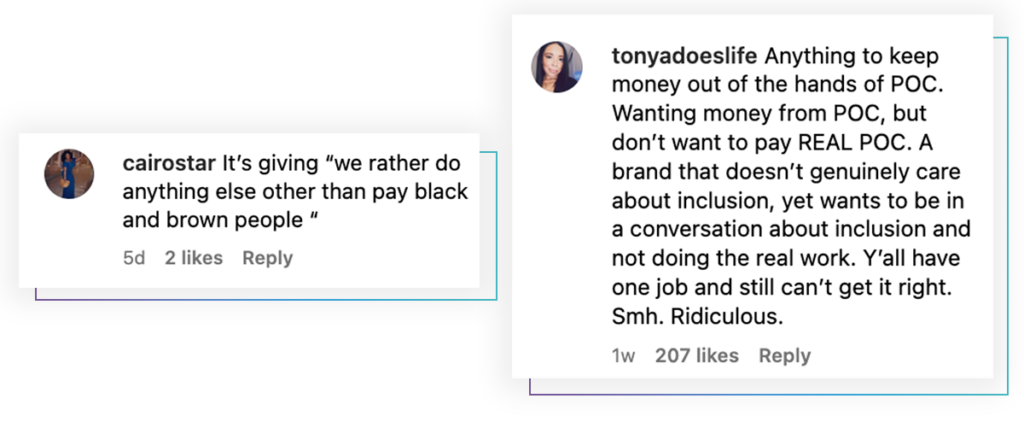 The whole affair harkens back to the not-so-long ago Shudu controversy, during which it was revealed that Shudu Gram, billed on Instagram as "the world's first digital supermodel" and a "person" of color, was in fact created by and directly profits white British photographer Cameron-James Wilson.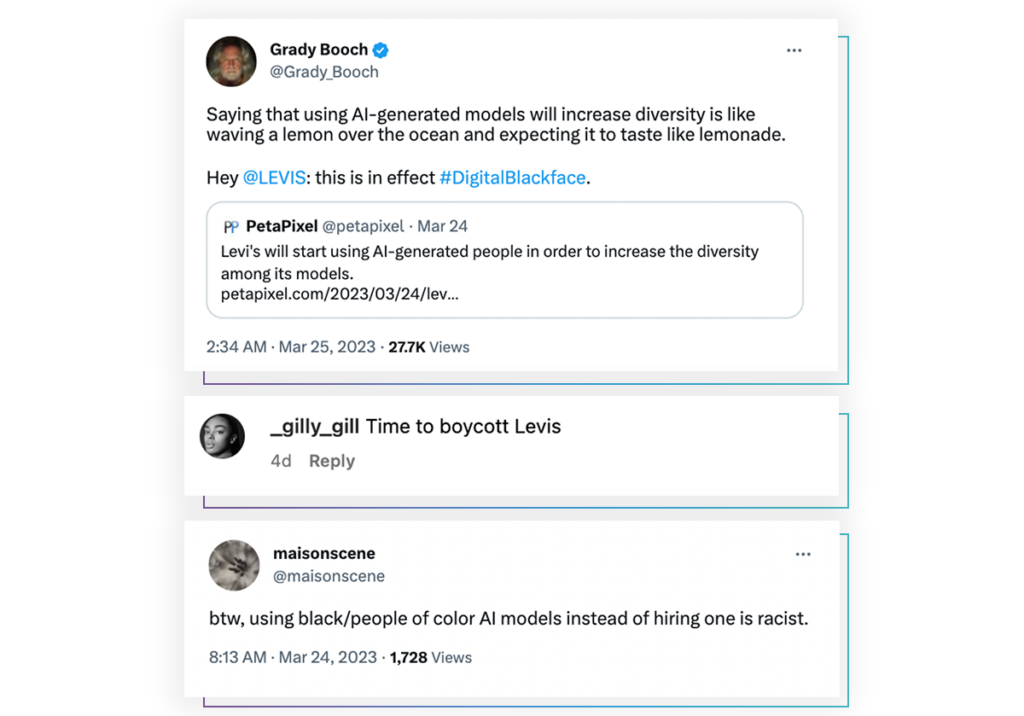 Real pay for real people
Beyond our belief that real people are a brand's best messengers, at People First we're committed to fair and equal pay for our creators. This plays a critical role in not only ensuring quality content, but also in creating an environment that values and promotes diversity, equity, and inclusion — and as Levi's recent faux pas has made clear, influencers themselves recognize this too.
Unfortunately, we don't have to think too hard about how Levi's could have embarked on this mission with an approach that puts people first — simply by hiring and paying real people from the communities they are looking to center.
So let Levi's be a lesson to us all: when it comes to promoting and actualizing diversity, equity, and inclusion in your community of microinfluencers, forget putting your money where your mouth is and instead put your money where your beautiful and diverse community of human creators are. Above all, it's time to move on from the detritus of one failed AI campaign after another and, yes, commit to keeping it real.
That's the power of putting people first in your marketing.
Subscribe to If Brands Put People First: